Title: A Song for Her Lord
Rating: G
Written for:

iyfic_contest
's "Song" theme
Placement: Third
Nominations: Best Characterization: Sesshomaru for Second Quarter 2007 at the IYFG
Content of Note: None
Disclaimer:
Notes: This one was fun. I don't often feel the need to write Sesshomaru, but it came out pretty good, if I do say so myself.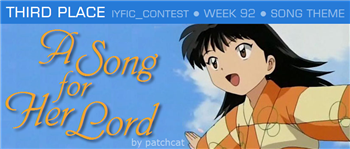 So, here you go. Enjoy!
( Her song would continue. Of that, he would make certain. )